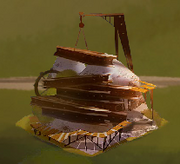 Increase the amount of Metal you can store.
You can store up to 4000 Metal without any Metal Storage. Once your maximum storage is reached, you will not be able to collect any more wood.
You can have a maximum of 6 Metal Storage Buildings.
Building/Upgrading
Edit
Players must first acquire the necessary artifact to unlock a building.
| Artifact | Location | Resources Cost | Time | Additional Increase | Cumlative Increase |
| --- | --- | --- | --- | --- | --- |
| Rank 1 | Floor 9 | 2500 1000 | 01:00:00 | +2000 | 2000 |
| Rank 2 | Floor 13+ | 12000 8000 | 04:00:00 | +8000 | 10000 |
| Rank 3 | Floor 26+ | 48000 32000 | 15:00:00 | +70000 | 80000 |