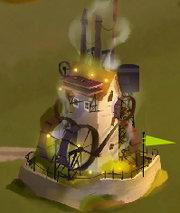 The Powered Mine is a premium building added on October 5th. Like the Mine, the Powered Mine collects metal automatically over time and stores it inside. The metal collected by the Powered Mine is stored within the building and can be collected and added to your total available metal stockpile by clicking on the Powered Mine once it has some metal stored. Metal collects more slowly than wood. Upgrading the Powerered Mine increases its production rate and local storage capacity.
The Powered Mine costs 19 Pramin to build.
You can have a maximum of 8 Premium Mines.
Building/Upgrading
Edit
| Rank | Resources Cost | Time to Build | Max Storage | Time to Fill | Harvest per Minute |
| --- | --- | --- | --- | --- | --- |
| 1 | 19 | 00:00:15 | 120 | 02:00:00 | 1.0 |
| 2 | 2000 1000 | 06:00:00 | 960 | 08:00:00 | 2.0 |
| 3 | 8000 4000 | 14:00:00 | 2880 | 16:00:00 | 3.0 |
| 4 | 28000 14000 | 24:00:00 | 5760 | 24:00:00 | 4.0 |
| 5 | 66000 46000 | 36:00:00 | 9600 | 32:00:00 | 5.0 |