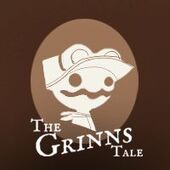 The Grinn's Tale Wiki
Let the Grinns take you on the adventure of a lifetime. Recruit a party of wacky cohorts, establish a base of operations so you can craft gear and produce battle supplies, and then venture up a mysterious Tower to fight monsters and discover the dark truth of your world.
-- Play The Grinn's Tale on Facebook.com--
-- Play The Grinn's Tale on Kongregate.com --
Ad blocker interference detected!
Wikia is a free-to-use site that makes money from advertising. We have a modified experience for viewers using ad blockers

Wikia is not accessible if you've made further modifications. Remove the custom ad blocker rule(s) and the page will load as expected.